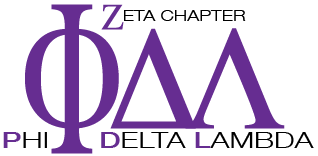 Phi Delta Lambda was founded in the 1940s as the international honor society of the colleges and universities of the Church of the Nazarene. Trevecca's Phi Delta Lambda chapter, Zeta, is comprised of graduating seniors with a GPA of at least 3.80 and who are in the top 15 percent of their class. An induction dinner is held the Friday before graduation when each recipient receives a certificate of membership and a Phi Delta Lambda Zeta chapter pin to wear at graduation
The organization has a dual purpose: to create an atmosphere of scholarship and camaraderie among graduates in the academic institutions of the Church of the Nazarene as well as promote ideals of academic achievement, character and Christian service. A love of wisdom and commitment to righteousness are also emphasized above all else. It is the hope of Trevecca that the students who achieve this distinction will embody these characteristics with fervor as they leave The Hill and move on to whatever God has called them to next.
For more information, contact phideltalambda@trevecca.edu.
A PDL Endowed Scholarship fund has been established to yield scholarships to high achieving, outstanding junior class members who are also first-generation college students. Selected recipients must have a GPA of 3.75 or higher. Recipients must also demonstrate the PDL tenets of wisdom, righteousness, and service.
2023 Phi Delta Lambda Inductees
The highest academic honor bestowed upon undergraduate students upon graduation is induction into the Zeta chapter of Phi Delta Lambda (PDL), the international honor society of the Church of the Nazarene. Inductees are graduating seniors representing the top 15% of their class. Zeta chapter inductees will receive a Certificate of Membership and the Phi Delta Lambda pin to be worn on student regalia during graduation. Congratulations to each one receiving this honor!
Abigail Afi Adu
Abigail Paige Allen
Daniela Patricia Barahona Miranda
Meri Katherine Barker
Grace Elizabeth Beckner
Christian J. Bowlin
Sommer Forrest Bright
Lydia Caroline Burton
Ana Jade Caudill
Anna Elizabeth Cawthorne
Ashley Elena Cook
Clarice Mariah Cox
Nicholas Alexander Dikhtyar
Kathryn E. Duncklee
Anna L. Fitzgerald
Cassidy Elizabeth Fleenor
Emerald Alyssa Frost
David Fernando Gamez Fuentes
Wendy Sue Godwin
Sara June Gruber
Lena J. Gurley
Sabrina Danaye Hedges
Suzanne Marie Heneghan
Heidi Cathryn Jackson
Giselle Jerezano
Alayna Beth Johnson
Robert Lloyd Johnston II
Dylan John Kelly
Melisa Lara Gomez
Chasity Lentz
Cesar Lorenzo Marini Chavez
Melody M. Marse
Bethany Joy Maynard
Catherine Rose McLachlan
Alesia Me-Liana Meade
Julia Faith Mowry
Abigail Lynn Myers
Tristen Noelle Peters
Emylee Madeline Preston
Israel Roseno de Sousa
Mark Edward Rowley
Tracy Justine Roy
Boone Hodges Russell
Roland Rex Ryan
Grace Marie Santos Espinoza
Hanah Michelle Sims
Mark J. Tibbits
Selah J. Torralba
Dorothy Michelle Varnadore
Carson Bryan Vaughn
Evelyn Waheed Waheeb
Megan R. Walker
Logan Gray West
Lindsey Nicole White
Alexa Grace Wilson
Baylee Ashton Woody
Ian Michael Wright
Micah Abigail Zimmerman
Gustavo Angel Zuniga