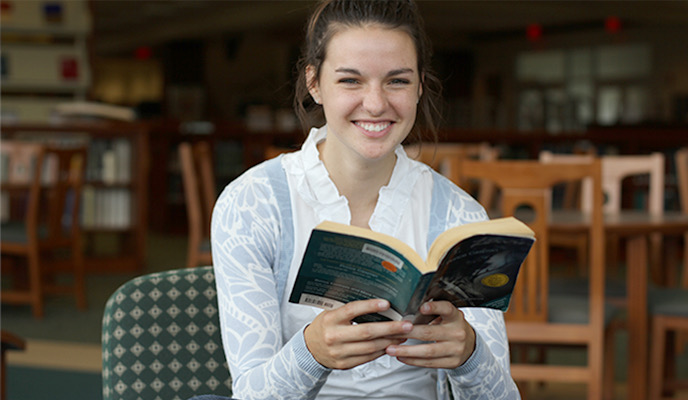 Benefits & Eligibility
Trevecca offers high school juniors and seniors the opportunity to be dually enrolled in select college courses prior to high school graduation.
Some BENEFITS of dual enrollment include:
Dual enrollment allows you to accumulate college course credits prior to entering college, so you can graduate early, on-time, or lighten your course load in college.
Dual enrollment can make your transition from high school level courses to college level courses much smoother.
Dual enrollment can give you a closer look at areas of interest prior to enrolling in college.
You are ELIGIBLE for dual enrollment if you meet the following criteria:
You are a rising high school junior or senior.
You have a minimum ACT composite score of 18 or 960 SAT (Total Score).
You have a minimum cumulative high school unweighted GPA of 2.5.
2019 Dual Enrollment Terms
Summer Session I: 05/13/19 – 06/23/19
Summer Session II: 06/03/19 – 07/14/19
Summer Session III: 06/24/19 – 08/04/19

Tuition & Payments
To make dual enrollment more affordable for families, Trevecca is offering a special discount rate for our online Summer Term courses only. The normal credit hour rate of $955 is discounted to $166. In addition, a $50 technology fee will be charged per class. The total cost of a 3 credit hour course is therefore $548 ($498 tuition plus $50 tech fee).
Qualifying Tennessee students are eligible for the Dual Enrollment Grant, which is a part of the TN Hope Scholarship. Please check eligibility and deadline requirements listed here.
Tuition not covered by the Dual Enrollment Grant is due prior to the first day of class. For questions about payment please contact student_accounts@trevecca.edu or 615-248-1242.
Students will be provided with a list of required textbooks/course materials. Students may purchase these on their own through the campus bookstore or through sources like Amazon.com.
Application Process
Check out our dual enrollment course offerings for the 2018 Summer Term here.
Apply online at www.trevecca.edu/apply.

Select "New Undergraduate Application."
Follow the instructions to setup an account and apply.
Select the Entry Term "2018 Summer Traditional" and Student Type "Special Student". Be sure to click "Submit" on the last page of your application.

Submit your official ACT/SAT test score and high school transcript to TNU's Admissions Office.

ACT School Code 4016
SAT School Code 1809

Pay a non-refundable $200 enrollment deposit online at https://www.trevecca.edu/admissions/pay-deposit . The $200 enrollment deposit goes directly on your account and is applied to your bill for the 2018 Summer Term.

​​ Trevecca Admissions Office
333 Murfreesboro Road
Nashville, TN 37210
admissions@trevecca.edu
615-248-1320
Your TNU Network Account & TNU Email Address Information will then be created by ITS and mailed to you from the Admissions Office.
Complete your application file (i.e. submitted application, official ACT/SAT scores, official high school transcripts, and enrollment deposit).
Registration
The Office of Admissions will notify you and your assigned advisors when you have been admitted for Dual Enrollment.
Your assigned advisors are Mr. Jeff Swink (jswink@trevecca.edu or 615-248-1445) or Dr. Donna Gray (dgray@trevecca.edu or 615-248-1376). Discuss with one of them which online course(s) you wish to take.
Either Mr. Swink or Dr. Gray will enroll you in the course(s).
Access to Online Course: All online courses are available four days before the start date. You will receive a notification from Blackboard to let you know the course is available. Perform a Browser check to make sure that you have the browser components needed to work in your course. Follow these steps to access Blackboard: Access https://trevecca.blackboard.com/, select the "Trevecca Login Single Sign On" link to access Blackboard. If prompted for authentication, please enter your full Trevecca email and password. Contact our Help Desk if you have trouble accessing Blackboard at servicenow@trevecca.edu or call 615-248-1223.
Textbooks: New students should refer to the professor's syllabus for a list of required books. Trevecca's on-campus Bookstore is located in the Jernigan Student Center or online at http://trevecca.textbookstop.com/home.