AmeriCorps Volunteers in Service to America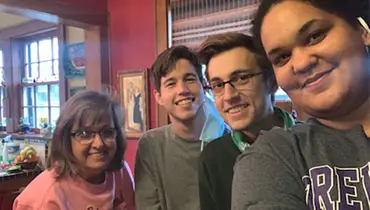 Alex Ralph
Hometown: Waunakee, WI
Hobbies: I play bass guitar and have been in several bands.
Role at Trevecca: My main responsibility at Trevecca is running our urban farm's TreeCycle program. In short, we recruit youth in the community to plant edible trees and repair bicycles. I came here to serve a year with AmeriCorps. I was drawn to the urban farm program due to its unique objectives. I have been interested in environmental sustainability and alternative food production for years, so it seemed like a good fit. My favorite moment of service so far was when I fixed my first bike. I have had to learn about all the different components of a bicycle and how to repair each of them, but it feels good to be working with my hands. It was rewarding to finally ride a bicycle I repaired myself.
Luke McDonald
Hometown: Athens, TN
Hobbies: I play the piano—been playing for 16 years! And spending time with my twin brother.
Role at Trevecca: I work on the urban farm feeding the animals, keeping the barn clean, and taking care of the greenhouse. In addition, I help out with the TreeCycle program. I'm usually found fixing up bikes, planning neighborhood tree planting events, or researching grants for the farm. My most enjoyable moments so far have been the TreeCycle planting events. Even though they can be stressful to plan at times, the events themselves are so rewarding. Each planting has truly been a community event. People from the neighborhoods in which we've held events want to be more involved. I've noticed that everyone is always excited to be serving their community—service really brings out the best in people.
Jessica Dunbar
Hometown: Philadelphia, PA
Hobbies: Multimedia arts. I love to put random things together and make it beautiful!
Role at Trevecca: I work out of the J. V. Morsch Center for Social Justice, supporting the mission of the college to identify and connect students with opportunities to develop their leadership skills and servant qualities, specifically through volunteer program matching. This year we have launched a partnership with Career Services and Student Development to get more students involved in serving our neighbors. My favorite and most encouraging part about my work is that despite an international pandemic and social distancing guidelines, volunteer opportunities are not hard to find in Nashville. Organizations are dedicated to their work and find ways for students to serve in the capacity that they can, even remotely. I am encouraged by the unwavering neighborly spirit of Nashville and the passion of university students to serve.