adult studies
online
Criminal Justice
Trevecca's Bachelor of Science in criminal justice is a degree-completion program designed for those with previous college credit who are working in the criminal justice field. With this degree, students can expand their education and potential for advancement by preparing for a career in law enforcement, corrections or criminal justice.
Program Benefits
Complete your degree fully online in as few as 18 months with all materials delivered to you.
Take advantage of flexible, asynchronous classes that fit your busy schedule.
Complete your program with a supportive cohort of students working toward similar goals.
Learn from faculty who possess high degrees in their fields, who have relevant and valuable real-world experience and who make an effort to know you personally.
What to Expect
As a student in Trevecca's Bachelor of Science in criminal justice degree-completion program, you'll gain the education you need to advance in your career, to work towards effective solutions for positive change and to help rebuild and repair the criminal justice system from the inside out. Current events demand new responses from the criminal justice system, and Trevecca is committed to producing highly-skilled law enforcement and corrections professionals who can fill crucial roles and help ensure the safety and security of others.
This degree is perfect for those with previous college credits who are already working in the criminal justice field and want to expand their potential for advancement. We know that your job is crucial to you and the community you serve, so you can continue to work full-time while earning your degree. In the program, you'll grow your knowledge of correctional processes, criminological theory, law adjudication, law enforcement and juvenile justice. You'll also improve your critical thinking, communication, research and problem-solving skills. You'll be challenged to examine your personal character and legal and ethical conduct as it relates to behavior, integrity, diversity and equality.
This program is centered on righting wrongs, healing brokenness and serving communities. Program Director Craig Bishop says, "Within the professions of criminal justice, we are dealing with individuals who are broken and hurting. We're dealing with a broken world and a broken criminal justice system, and we want to focus on healing and reform in this program. We need more empathy and compassion within the system—professionals who allow the Lord to use their gifts and talents to minister in others' lives, whether it's a victim or an offender. It's just a tremendous ministry opportunity."
Why Choose Trevecca?
Founded in 1901 and a leader in online education for more than two decades, Trevecca helps students discover and pursue an individual calling by providing innovative instruction; cultivating a supportive, Christ-centered community; and establishing relationships that open doors.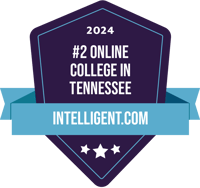 Recognized nationally and locally for academic quality, Trevecca has earned a reputation for providing the world with servant leaders, problem solvers and difference makers. Trevecca's holistic approach to education encompasses intellectual, social, emotional, physical and spiritual growth.
As a Christian university, we offer programs that explore the ways faith intersects with your field of study. This means you can gain your criminal justice degree in a supportive, Christian community with small classroom sizes and engaged faculty members who care about you and your goals.
Course Descriptions
Get details on all the courses you'll complete as you work toward this degree at Trevecca.
Read More
Here's a look at the approximate tuition rates you could expect for this program at Trevecca, including the cost per credit hour and the total tuition expense for the full degree program. Please note that rates and fees are subject to change.
Here's a look at the approximate tuition rates you could expect for this program at Trevecca, including the cost per credit hour and the total tuition expense for the full degree program. Please note that rates and fees are subject to change.
Cost/Credit Hour

$419

Hours

36

Tuition Cost*

$15,084
*$150 Student Resource Fee assessed per course. $150 estimated book cost per course.
*A total of 120 credit hours are required to complete this program.
Admissions
Optional Minors
Emphasizing a holistic educational perspective, a Christian worldview, a value of liberal arts, and a respect for integrity and ethics, this program is for the adult learner who has completed some undergraduate coursework or holds an associate's degree.
Students with certification of having completed basic law enforcement or correctional officer academies are eligible to submit for review and potential acceptance toward transfer credits or life experience credits.
Getting Started
Complete the online application (it's free!).
Need help applying? Read the step-by-step instructions here!
Fill out the FAFSA to be considered for financial aid
Request official transcripts from your previous institution
Requirements
Completion of at least 40 credit hours from an accredited institution
2.0 cumulative GPA for all prior coursework
Some proficiency with computer technology and reliable access to technology throughout the program
Provide photocopy of government-issued identification (e.g., driver's license, state ID, military ID, passport). This requirement ensures that Trevecca complies with the U.S. Department of Education expectations for student verification. (This is only required for students enrolled in an online program.)
For students who have not completed the necessary 40 credit hours, there are still options for starting a degree. The online associate's degree programs are open to students, regardless of credit hours. View our associate degrees to learn more.
Trevecca offers optional minors to non-traditional undergraduate students. Minors provide an excellent path to gain expertise in a focus area while you secure enough credit hours to complete your degree!
Minor in Business
Minor in Healthcare Administration
Minor in Christian Ministry Online
Minor in Psychology
Minor in Leadership
Minor in Criminal Justice
Career Opportunities: Bachelor of Science in Criminal Justice
With a Bachelor of Science in criminal justice, you'll be ready to advance your career and make a difference in the world. Your degree will position you for roles like these:
Law enforcement officer (federal, state, county, municipal agencies)
Probation officer
Parole officer
Correctional officer (jails or prisons)
Social service agencies (serving offenders and victims)
Frequently Asked Questions
How many academic credit hours are permitted to transfer?

You will need to have at least 40 credit hours (with a maximum of 90 credit hours) to transfer into the degree-completion program. You will then take the 36 hours in this program to complete your bachelor's degree. Your enrollment counselor can help you evaluate whether the credit hours you have earned previously are transferable to the Bachelor of Science in criminal justice degree-completion program.
I haven't completed any undergraduate level coursework yet but am interested in this degree. What are my options?

You may complete one of our associate degrees and then proceed into the criminal justice degree-completion program. Your enrollment counselor will help you select the best associate degree program for you.
Do you use textbooks or e-books?

We use physical textbooks for our courses, but all materials you need—including textbooks—are delivered to your front door. We make getting your bachelor's degree as easy as possible. Our program is structured so that you never have to step foot on campus!

Books are not included in the tuition price but their cost may be covered by financial aid, or they may be rented through the University.
I'm already busy managing a full-time job and other commitments. How will I find time to complete coursework and study?

Our team of professors and mentors designed the pace of this degree with you in mind. The program is structured for you to take classes at a manageable pace entirely online. Study when it's convenient for you—an hour in the morning over coffee, during your lunch break or after your kids' bedtime. Classes are asynchronous, meaning there is no specific time you must be online.
I don't have time to drive to Trevecca's campus. Can I earn the degree online?

The wonderful thing about our criminal justice degree-completion program is that it is a 100 percent online program with books and materials delivered to your front door. Classes are taught online through our learning management system, Blackboard. And when we say the degree is entirely online, we mean it. With the way our program is structured, you never have to step foot on campus—not even once!
Will I receive the same experience online as those who attend class in person?

Yes! Trevecca's cohort model is a highly successful online experience that allows students from various backgrounds and locations to succeed. You begin and complete your degree alongside a group of other online classmates working toward similar goals. Your peers provide the support needed so you can get the most out of your studies. Even while taking online classes, you stay very engaged with your cohort classmates. Email exchanges and online discussion posts happen weekly.
I haven't been a student in years—what if I fall behind or struggle to keep up with classes?

At Trevecca, we don't emphasize academics in a vacuum. We're committed to holistic education, encouraging students to grow intellectually, socially, emotionally, physically and spiritually. We're here to offer you the tools needed to succeed. You'll be surrounded by a group of classmates, directors and professors who genuinely care and want to make this the most successful academic journey you could ever encounter.
What is the difference between the traditional undergraduate Bachelor of Science in criminal justice studies degree and the Bachelor of Science in criminal justice degree-completion program?

The Bachelor of Science in criminal justice studies is a traditional four-year undergraduate degree, offered on Trevecca's main campus. It is best suited for recent high-school graduates and students who want to live on campus. This degree is designed for those who have an interest in understanding the theories associated with the causes of crime, the work performed by criminal justice professionals and the impact public policy decisions have on the operation of the criminal justice system.

The Bachelor of Science in criminal justice degree-completion program is 100 percent online and is targeted to students with some college credits, who are employed (likely in the criminal justice field) and want to complete their bachelor's degrees. Students must have at least 40 credit hours (with a maximum of 90 credit hours) to transfer into the degree-completion program.
What are the technology requirements for this program?

In today's world, capable managers and leaders are more resourceful and resilient than their peers. In several of Trevecca's programs, we want to build students' ability to be resourceful and resilient in addressing their technology needs. Read our full list of technology requirements →

Course Descriptions
Get details on all the courses you'll complete as you work toward this degree at Trevecca.*
---


Cohort Schedule
View a sample schedule of the courses you will be taking when you enroll.
Biblical Perspectives and the Christian Life

BML 3150

In this course, students will explore and articulate the foundational themes of the Bible. The course is designed to foster a Christian worldview from a Wesleyan perspective. The course encourages the integration of faith, learning, and living.

Credit Hours: 3
Law Enforcement and Society

CJD 2600

Introduction to research, theory and applications of the causes and consequences of police behavior. Community policing, problem-solving methods, police discretion, police misconduct, police crime prevention strategies, policing, and restorative justice. Also covers political controls on authority and jurisdiction, professionalization of the police, and the relationship between the police organization and the individual. Analysis of public hostility toward police and current community relations projects, human relations, training and education of law enforcement officers; responsibilities of police administrators, including various organizational functions within agencies, causes of tension and conflict, dissent and disorder, positive and negative factors in the control of minority group hostilities; minority recruitment in law enforcement.

Credit Hours: 3
Theories of Crime and Deviance

CJD 3300

Brief historical overview of criminological theory up to the 1950s. Deviance, labeling, social control, routine activities, rational choice, life course, opportunity and self-control theories of crime. Recent research in criminalistic subcultures, criminal persistence and desistance in criminal behavior and the debate on the age-crime curve and the arguments regarding career criminals and criminal careers.

Credit Hours: 3
Juvenile Delinquency and Law Enforcement

CJD 3310

Juvenile delinquency in relation to the general problem of crime, analysis of factors underlying juvenile delinquency, treatment and prevention, its onset, prediction and desistence. Organization and social responsibility of law enforcement.

Credit Hours: 3
Correctional Systems

CJD 3410

Introduction to the research and policy issues for community-based and institutional correctional programs, assessment and screening tools, management of convicted offenders and institutional overcrowding. Research on prediction of recidivism, matching of treatment programs to offenders, management of correctional institutions and programs.

Credit Hours: 3
Criminal Law: The Defense Side

CJD 3420

Procedure of the criminal courts from the defense viewpoint. ABA standards for defense attorneys, the handling of a case by the defense from arrest to appeal, and ethical problems posed for defense attorneys. Attention given to defense by appointment and plea bargaining.

Credit Hours: 3
Criminal Justice System and Criminal Courts

CJD 3430

Introduction to research and theory in prosecution, plea-bargaining, sentencing principles and guidelines, and sentencing policies in practice. Mandatory minimum sentencing, "three strikes" laws, race, gender and class disparities, general and specific deterrent effect of sentencing, restitution and restorative justice, diversion and sentencing to treatment.

Credit Hours: 3
Values and Ethics in Criminal Justice

CJD 4200

A study of ethical issues facing the criminal justice system. Problems confronting police, the courts and the juvenile and correctional systems are addressed. Moral issues and integrity building modules. Survey of major schools of ethics theory; sources of ethical and philosophical foundations for criminal justice functions; common quandaries confronting officers, supervisors, and executives in criminal justice.

Credit Hours: 3
Criminal Investigations and Contemporary Issues

CJD 4210

General investigative responsibilities and techniques, including administration, preparation, investigative jurisdiction and responsibility and the importance of substantive report writing. Development of Constitutional and procedural controls of the administration of criminal justice. Constitutional limits on law enforcement agencies, including the laws of arrest, search and seizure, admissions and confessions, and eavesdropping; on pre-trial and trial procedures, on past conviction processes. Emphasis on current U.S. Supreme Court decisions. Also deals with planning, research, and development in law enforcement.

Credit Hours: 3
Applied Data Analysis in Criminal Justice

CJD 4500

Overview of scientific research methods in criminal justice with emphasis on computer technology to conduct research and interpretation and analysis of various statistical data of your community, zone and/or precinct.

Credit Hours: 3
Fundamentals of Emergency Management

CJD 4510

An introduction to the construct and practice of homeland security and domestic preparedness. Preparedness and management of local, state, and national emergencies, disasters and threats will be discussed. Content will include emergency preparedness, first responders, personnel management, and incident management.

Credit Hours: 3
This course focuses on understanding terrorism. Content covers the historical, political, economic, global environment, and context of threat. Both international and domestic threats are covered along with protocols for reducing or eliminating those threats. Terrorist groups, militant organizations, and individual crime are studied.

Credit Hours: 3
*For a complete list of courses, tracks and other relevant information, view the program's course catalog.