adult studies
on campus
Post Baccalaureate Programs
Trevecca's post baccalaureate programs prepare you for success in the classroom by helping you earn credentials to become a licensed teacher, to add an area of endorsement to your existential credential or to prepare for license renewal. These programs cover effective teaching and classroom management strategies and offer opportunities for practicum and student teaching.
Program Benefits
Complete your program with a supportive cohort of students who are working toward similar goals.
Enjoy the collaborative and cooperative learning environments fostered in our classrooms.
Learn from faculty who possess the highest degrees in their fields and have relevant and valuable real-world experience.
Engage in valuable hands-on learning with practicum and student teaching opportunities.
What to Expect
As a student in one of Trevecca's post baccalaureate programs, you'll be fully prepared to succeed in the classroom. Our post baccalaureate licensure equips you in early childhood education (pre-K–3) and in special education (K-8). Our Master of Arts in teaching (MAT) licensure equips you in elementary education (K-5) and secondary education (6-12). Our programs are accredited by The National Council for Accreditation of Teacher Education (NCATE).
As part of the program, you'll learn how to write lesson plans based on best practices to meet current standards; how to collect and analyze student learning data; how to teach students to read; how to make accommodations for exceptional learners; how to manage a diverse classroom; and more. You'll take part in a least 15 weeks of supervised student teaching in a local school, where you'll teach lesson plans you've created, apply classroom management strategies and learn how current technologies and curriculum are being used in the field. During your practicums and student teaching, you'll receive valuable feedback from your supervising professor and mentoring teacher aimed at helping you become a more effective teacher
Why Choose Trevecca?
Founded in 1901 and a leader in online education for more than two decades, Trevecca helps students discover and pursue an individual calling by providing innovative instruction; cultivating a supportive, Christ-centered community; and establishing relationships that open doors.
Recognized nationally and locally for academic quality, Trevecca has earned a reputation for providing the world with servant leaders, problem solvers and difference makers. Trevecca's holistic approach to education encompasses intellectual, social, emotional, physical and spiritual growth.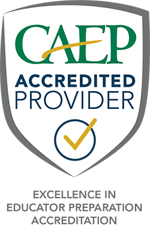 Trevecca's School of Education degree programs meet the rigorous national standards for education preparation established by the Council for the Accreditation of Educator Preparation (CAEP). CAEP promotes excellence in educator preparation through content and pedagogy, clinical partnerships and practice, candidate recruitment, progression and support, program impact, quality assurance and continuous improvement.
Career Opportunities
When combined with your bachelor's degree and/or teaching experience, our post baccalaureate programs prepare you to advance your career in:
Early Childhood Education (pre-K-3)
Special Education (K-8)
Elementary Education (K-5)
Secondary Education (6-12)