Letter from the President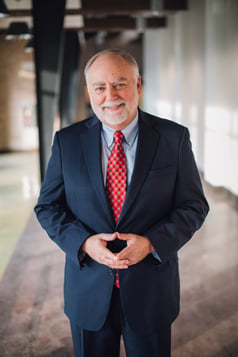 Dear friends,
As parents of three daughters, Denise and I faced the college decision with a great deal of consideration and prayer. When each daughter reached her senior year, we found ourselves looking at funding the next chapter of her story – college. It would be the largest single expense item that we had encountered to date. What do we do? Do we look for the cheapest option, the live-at-home path, the online alternative? Or do we take a deep breath and consider the kind of formation we are purchasing for our child?
As president of Trevecca Nazarene University, a Christian university in the heart of Nashville, I hear the parental concerns. I know that, in the landscape of colleges today, sacrifice is required on the part of our families to choose a private Christian university. The reality is that your experience at Trevecca will look very different than at any other university. Here you will find faculty and administrators who mentor students and invest in their lives. You will find classrooms with high academic standards and compassionate, caring Christian professors who seek to help shape the classroom experience specifically for your student. You will find a community of students and staff that care for each other and journey together. Trevecca is a very special place, and our commitment to you is to do everything we can to help make your child's dream of attending Trevecca a reality.
Trevecca is here for families like yours. We are unapologetically Christian, academically rigorous, and our students genuinely love their university. Trevecca is one of the most affordable Christian universities in the nation. I am amazed at the number of parents who say to me at graduation, with tears in their eyes, "We never thought this was possible, and we wouldn't take anything for the impact that Trevecca has had on our child."
At Trevecca, we say "Great stories begin here." Let Trevecca help make your deepest hopes for your college-bound son or daughter come true.
Please contact the Office of Admissions (615-248-1320) and let Trevecca help you find a financial path that will allow you to give this great gift to your child.
Looking back, the greatest gift we gave our three now-adult daughters was a college degree from a Christian university. Our choice is Trevecca. I hope yours is too.
Sincerely,
Dan Boone
President, Trevecca Nazarene University