traditional undergraduate
on campus
Multimedia Journalism
The Bachelor of Science in multimedia journalism trains students to tell stories that matter in their communities. Trevecca's state-of-the-art technology and curriculum prepare students for journalist jobs at news stations, newspapers, magazines and online publications. The program is also a good fit for those who have interest in public relations and other media writing careers.
Trevecca's Bachelor of Science in multimedia journalism equips you for a career in journalism or public relations with curriculum that teaches you to think critically and compassionately as you tell the stories that matter in the communities you serve. You'll use state-of-the-art equipment and technology in our communication lab and gain hands-on experience with our award-winning student publications.
Program Benefits
Learn from faculty who possess high degrees in their fields, who have relevant and valuable real-world experience and who make an effort to know you personally.
Study in our state-of-the-art communication lab.
Enjoy our small class sizes and supportive campus community.
Gain hands-on experience working on one of our award-winning student publications.
Take advantage of the exciting internships and career opportunities available in the Nashville market.
What to Expect
Journalists have long played a key role in our culture and democracy. At Trevecca, we believe journalists have the power to influence their communities and change the world by telling the stories that matter. This program equips you to do just that through a career in journalism or public relations.
Our curriculum is designed by industry experts to help you think critically and compassionately about the world and to write, interview and report as a skilled and ethical storyteller. You'll be able to hone your skills with access to professional equipment and technology in our state-of-the-art communication lab.
You'll also gain valuable, hands-on experience and build your professional portfolio working on our student publications, such as The TrevEchoes, our award-winning student newspaper, and The Micah Mandate, a magazine about our J.V. Morsch Center for Social Justice. Our combination of rigorous coursework with a narrative focus and hands-on experience often leads to our students landing competitive internships from Nashville to New York City to Washington, D.C.
Why Choose Trevecca?
Founded in 1901 and a leader in online education for more than two decades, Trevecca helps students discover and pursue an individual calling by providing innovative instruction; cultivating a supportive, Christ-centered community; and establishing relationships that open doors.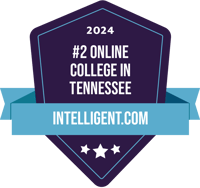 Recognized nationally and locally for academic quality, Trevecca has earned a reputation for providing the world with servant leaders, problem solvers and difference makers. Trevecca's holistic approach to education encompasses intellectual, social, emotional, physical and spiritual growth.
As a Christian university, we offer programs that explore the ways faith intersects with your field of study. This means you can gain your multimedia journalism degree in a supportive, Christian community with small classroom sizes and engaged faculty members who care about you, your faith and your goals.
Course Descriptions
Get details on all the courses you'll complete as you work toward this degree at Trevecca.
Read More
Career Opportunities
Our program has a strong reputation, and our alumni are telling stories that matter at news stations, newspapers and online publications across the country. With your degree from Trevecca, you'll be well-prepared to enter the world of journalism or public relations with the skills and experience you need to excel. More specifically, your degree equips you to succeed in roles such as:
News anchor
News reporter
News producer
News director
Director of public relations
News/magazine writer
News/magazine editor

Course Descriptions
Get details on all the courses you'll complete as you work toward this degree at Trevecca.
---
Theories of Communication

COM 3010

Surveys the major theories of human communication. The study will focus on the origins, usefulness, and limitations of each theory for understanding communication events. This course will help prepare students to analyze and interpret human communication in all its forms (intrapersonal communication, interpersonal communication, small group transactions, organizational communication, public speaking, drama, and mass communication).

Credit Hours: 3
Advanced Public Speaking

COM 4000

Gives students practical experience in the preparation and presentation of the speeches that are usually required in business and the professions. Areas of instruction include speech making, oral reading of reports, and speech for radio and television.

Credit Hours: 3
Career Internship in Communication Studies

COM 4510

Intensive study, observation, and participation in various field projects designed and contracted between the student and instructor. Internships will be arranged in conjunction with the student's major. Maximum of 6 hours. Graded S/U.

Credit Hours: 1-3
Research Methods in Communication Studies

COM 4550

Introduces students to the most commonly used qualitative and quantitative methods of research associated with the discipline of communication.

Credit Hours: 3
Senior Project in Communication Studies

COM 4800

All majors in the Department of Communication Studies are required to present a senior project as a public performance. The project should relate to the student's specialized interest in the field, demonstrate his or her acquired skills, and be academically and vocationally beneficial as a culminative experience. The project must be approved by the faculty advisor at least one semester in advance. The number of credits is contingent upon the number of hours given to the project [40+ hours for one (1) credit; 80+ for two (2) credits.] Graded S/U.

Credit Hours: 1-2
Introduction to Mass Media

COM 2210

Founded upon an historical overview of the persons and technological discoveries that contributed to the origins of mass media, this course examines the advances, roles, and impact of mass media in a changing world. The contemporary convergence, contexts, and controversies of mass media are examined within print, electronic, information, and persuasion industries.

Credit Hours: 3
Introduction to Film and Video Production

COM 2215/ITI 2215

An introduction to the use of digital cameras for professional or personal digital filming. Training includes introduction to camera capabilities, movement, control, lighting, sound, and scene composition. Essential editing skills also introduced.

Credit Hours: 3
Foundations of Media Writing

COM 2620

Will teach mass communication students, regardless of their concentration, basic media writing skills. Emphasis is placed on a journalistic style of writing using AP style that is required by all media industries including radio, television, newspaper, internet, and public relations.

Credit Hours: 3
Students will learn several basic ways to "read" a film and how to respond to it descriptively, evaluatively, and interpretively through the writing of film reviews. Students will engage in the responsible, competent, critical evaluation/judgment of actual films. Some attention also will be given to generic influences, filmic literacy, and artistic accountability.

Credit Hours: 1
Journalism Ethics

COM 2510

Prepares the Christian journalist to make decisions about coverage and sources in a fast-paced work environment. This course will explore personal ethics as well as institutional ethics of media organizations and issues of representation, race, etc. Personal ethics involved with social media will also be discussed and studied.

Credit Hours: 3
Requires students to work for the student newspaper, the online publications or the television news show for credit. Students in this lab will practice skills learned in the class and contribute the content of the news outlet to gain experience and items for a portfolio.

Credit Hours: 1
Multimedia Theory and Trends

COM 2520

Explores how print, radio, and television started and how they work together to tell the stories that matter in a democracy. The ever growing trend of social media will also be analyzed and discussed.

Credit Hours: 3
Broadcast Journalism

COM 2525

Provides instruction in the area of news collection, writing, and reporting for broadcast media. Individuals successfully completing this class should have an adequate working knowledge for an entry level position in the broadcast journalism area.

Credit Hours: 3
Principles of Public Relations

COM 3000

Surveys the development, scope, and role of public relations in society and provides training in basic public relations skills. Includes practical experience with news releases, PR campaigns, communication schedules, and media strategies.

Credit Hours: 3
Online Journalism and Social Media

COM 3120

This course assumes students have the skills to spot news, gather information and write a story. Now that they understand how content is produced, students will spend the semester examining and practicing the several ways content can be presented, including learning to think beyond basic print and broadcast stories and look at converging media such as the Web, cell phones, and social networking.

Credit Hours: 3
Layout Design and Editing

COM 3130

In this course students will learn the elements of newspaper and web design as well as practice skills in copyediting, headline writing, cutline writing and photo editing. Specifically, students will learn to use Indesign.

Credit Hours: 3
Feature/Magazine Writing

COM 3680

Focuses on feature style and magazine writing, with the purpose of developing the skills necessary to be able to research and write in-depth and reflective stories. This course will work in partnership with the Center for Social Justice in writing and producing the Micah Mandate magazine.

Credit Hours: 3
General Education — 51 hours
Minor — 15-18 hours
General Electives — 3-6 hours
COM 2515: 2 semesters required, 1 credit hour each
COM 4510: 3 hours required
COM 4800: 1 hour required

*For a complete list of courses, tracks and other relevant information, view the program's course catalog.