Caring for Careers
Trevecca Nazarene University's Quality Enhancement Plan (QEP), Caring for Careers, is designed to elevate the student experience and better prepare students for post-Trevecca careers. Through four action areas—campus resources, experiential learning, mentorships and relevant coursework—our QEP supports students in finding success and meeting career goals after graduation.
Our Goal
To engage all students in career development through both on-campus (curricular and co-curricular) activities and engagement with alumni and external partners in order to support student success toward post-graduation life and career goals.​
Student Success Outcomes
Students will be aware of and have confidence using campus resources to support career-related goals.
Students will graduate with competence in accessing alumni, professional, and mentorship resources.
Students will have opportunities to participate in experiential learning. (Internships, research experiences, service learning, other work-related experiences)
Students will be able to connect their academic coursework to career objectives/goals. ​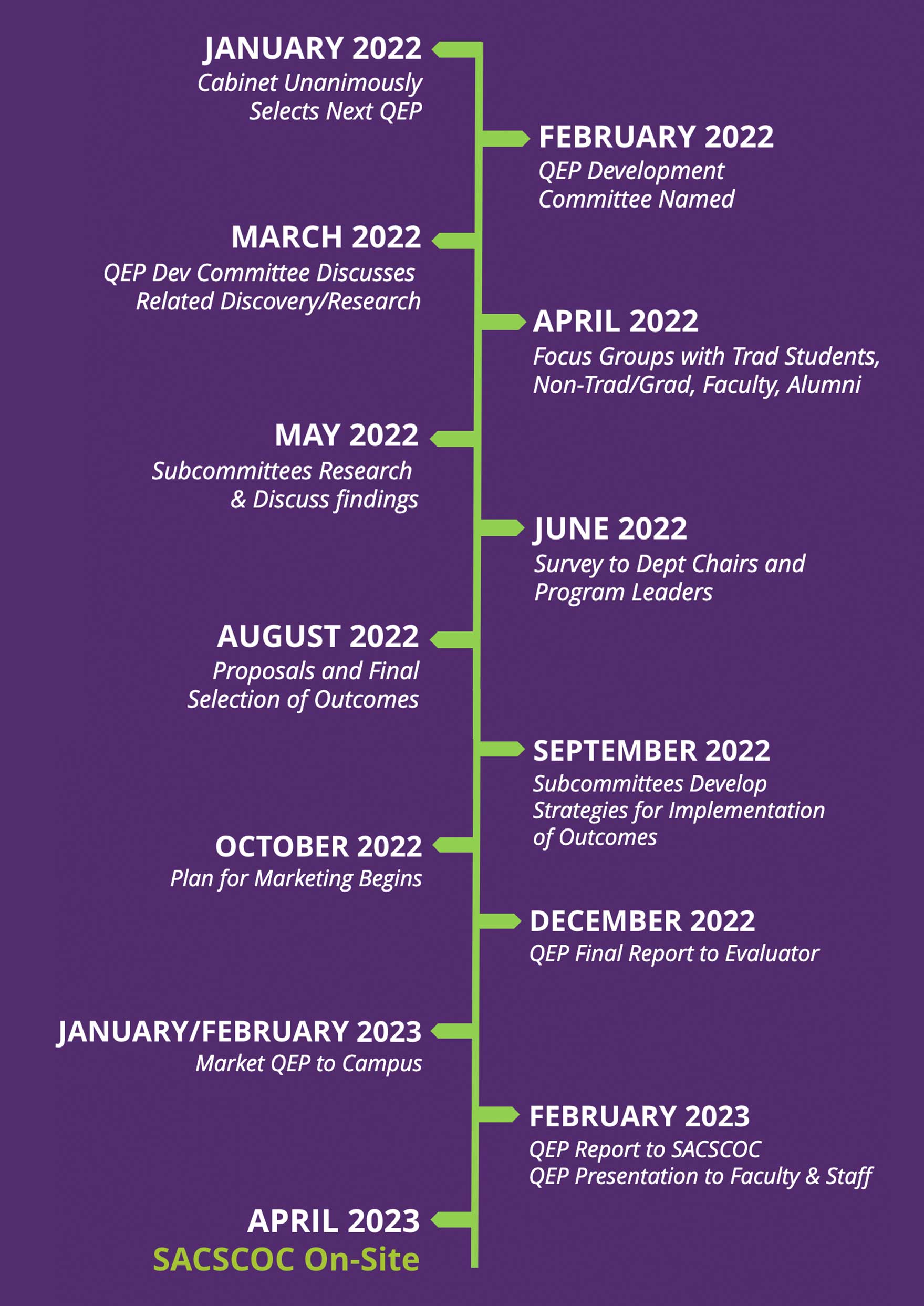 QEP Committee
Dr. Cathy Hendon, Chair
Becky Farley, Associate Chair
Dr. Jonathan Bartling ​
Dr. Drew Burnham​
Dr. Dean Diehl ​
Michelle Gaertner​
Dr. Sam Green ​
Dr. Aaron Hall​
Dr. Erica Hayden​
Dr. David Diehl​
Dr. Brandee Norris
Dr. Julie Rigsby​
Greg Runyan​
Jen Showalter​
Sarah Thompson​
Mollie Yoder​
Student Reps:​
Onyedikachi Dimobi​
Kate Barker​
Laura Neumar
Advisory:​
Peg Cooning ​
Dr. Tom Middendorf​
Dr. Steve Silliman​
Dr. Lena Welch​