adult studies
online
Christian Ministry
Trevecca's Bachelor of Arts in Christian ministry is an online degree-completion program that equips you to serve in a variety of roles, from full-time Christian ministry to service in a church or organizational setting. This program focuses on providing you with a holistic mindset, a missional vision, servant leadership skills and ministry competence.
Program Benefits
Complete your degree online in as little as 18 months.
Learn from faculty who possess the highest degrees in their fields, who have relevant and valuable real-world experience and who make an effort to know you personally.
Complete your program with a supportive cohort of students working toward similar goals.
Enjoy the collaborative learning environments fostered by our small class sizes.
What to Expect
As a student in Trevecca's B.A. in Christian ministry degree-completion program, you can receive the education you want with the flexibility you need. Designed for students who already have 40 credit hours completed, the Bachelor of Arts in Christian ministry works well if you feel called to a full-time Christian ministry or simply want to grow in your faith and knowledge in order to serve in a church or organizational setting.
The B.A. in Christian ministry combines academic excellence with application-based curriculum in an educational environment that aligns with your values and goals. Our curriculum equips you in four key areas:
Holistic mindset
Missional vision
Servant leadership skills
Ministry competence
If you are worried about having enough credits to begin the program, know that Trevecca offers college credit for various certifications, assessments and professional experiences. A dedicated advisor will work directly with you to complete a Prior Learning Assessment to determine whether you qualify for non-traditional credit. If you need some extra hours or want to tailor your degree, Trevecca also offers courses in the areas of healthcare administration, information technology, psychology and management and leadership that can be taken for general elective credit. For those seeking ordination, courses in the Christian ministry program may be used toward meeting ordination requirements (prior course approval from the ordaining organization is recommended).
Why Choose Trevecca?
Founded in 1901 and a leader in online education for more than two decades, Trevecca helps students discover and pursue an individual calling by providing innovative instruction; cultivating a supportive, Christ-centered community; and establishing relationships that open doors.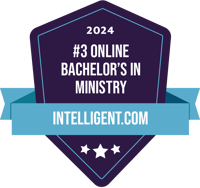 Recognized nationally and locally for academic quality, Trevecca has earned a reputation for providing the world with servant leaders, problem solvers and difference makers. Trevecca's holistic approach to education encompasses intellectual, social, emotional, physical and spiritual growth.
At Trevecca, we want to support you in your pursuit of God's calling for your life. While working toward your Bachelor of Arts in Christian ministry, you will be surrounded by a community of other students and professors who are committed to close relationships with Jesus Christ. Your involvement in the life and ministry of the local church is also important to us. That's why our online format is designed to be accessible and convenient to work around your schedule without detracting from your time in the church.
Course Descriptions
Get details on all the courses you'll complete as you work toward this degree at Trevecca.
Read More
Here's a look at the approximate tuition rates you could expect for this program at Trevecca, including the cost per credit hour and the total tuition expense for the full degree program. Please note that rates and fees are subject to change.
Here's a look at the approximate tuition rates you could expect for this program at Trevecca, including the cost per credit hour and the total tuition expense for the full degree program. Please note that rates and fees are subject to change.
Cost/Credit Hour

$327

Hours

36

Tuition Cost*

$11,772
*$150 Student Resource Fee assessed per course. $200 estimated book cost per course.
*A total of 120 credit hours are required to complete this program.
Admissions
Optional Minors
Graduation
Nazarene Pastors Scholarship
Admission Requirements
To be admitted to the BA program in Christian Ministry the student must:
Complete online application.
Complete FAFSA or appropriate reimbursement or payment plan agreements.
Submit official transcripts from previously attended institutions, sent directly from granting institution to TNU.
Have earned a grade point average of 2.0 for all academic work completed.
Have successfully completed a minimum of 40 hours of semester credit from an accredited institution.
All students are expected to have some proficiency with computer technology. Reliable access to technology will be required through the program.
Submit confidential Medical Health History and Immunization Forms to Trevecca's Student Health Clinic prior to registration (see Immunization Information entry at the end of this section). Applies only for students enrolled in face-to-face courses.
Provide photocopy of government-issued identification (e.g., driver's license, state ID, military ID, passport). This requirement ensures that Trevecca complies with the U.S. Department of Education expectations for student verification. (This is only required for students enrolled in an online program.)
For students who have not completed the necessary 40 credit hours, there are still options for starting a degree. The online associate's degree programs are open to students, regardless of credit hours. View our associate degrees to learn more.
Trevecca offers optional minors to non-traditional undergraduate students. Minors provide an excellent path to gain expertise in a focus area while you secure enough credit hours to complete your degree!
Minor in Business
Minor in Healthcare Administration
Minor in Christian Ministry Online
Minor in Psychology
Minor in Leadership
Minor in Criminal Justice
To graduate with a bachelor's degree in Christian ministry, students will need a minimum of 120 credit hours, satisfying the following requirements:
General Education (30 semester hours)
6 semester hours of communications (of which one course must be in English composition)
3 semester hours of humanities (at least one course must be from the following: literature, philosophy, art or music appreciation, art or music history, fine arts, history)
9 semester hours of social/behavioral science
6 semester hours of math/natural science
6 additional semester hours in any above general education area
Core Classes (36 semester hours)
General Electives (54 semester hours)
TOTAL: 120 semester hours
Students also need to maintain a 2.0 cumulative GPA to be eligible for graduation. Trevecca accepts transfer credit and prior learning towards the above requirements. To learn how your previous credit or prior learning will apply and see what your personal path to a bachelor's degree will look like, fill out the form and an enrollment counselor will contact you!
Trevecca students in the Christian Ministry (CMO) program who are locally-licensed, district-licensed, or ordained (either elder or deacon) in the Church of the Nazarene and who reside or work on the Southeast Field of the U.S. are eligible to receive the Nazarene Pastors Scholarship – which offers free tuition for the CMO program.
After funds are applied for the scholarship, the only remaining out-of-pocket expenses include a course technology fee ($100 per class) and the cost of books. To receive the scholarship, students must show proof of local or district license (or ordination certificate) and submit the scholarship application. If you qualify, be sure to apply!
Career Opportunities
With your Bachelor of Arts in Christian ministry, you'll be ready thrive in various Christian ministry roles like these:
Lead pastor
Associate pastor
Youth pastor
Children's pastor
Non-profit director
Compassionate ministries director
Frequently Asked Questions
I don't currently have 40 credit hours—what are my options?

If you currently do not have any transferable credit hours, we offer an associate program that will help you earn your general education credits, as well as some introductory courses in a discipline. If you already have some credits (but fewer than 40), our enrollment counselors can help with determining which classes you need, both in general education or elective classes. All of these courses can be completed online. Connect with an enrollment counselor with the form on the right to get started.
Can I really graduate with my bachelor's degree in 18 months?

Our core programs are approximately 18 months long. To graduate, you'll need to meet all graduation requirements for a bachelor's degree, including minimum general education requirements and elective requirements. An enrollment counselor will be able to help you determine exactly what you need to graduate and options to complete all of your requirements. Fill out the form on the right to be connected with an enrollment counselor!
Do you use textbooks or e-books?

We use physical textbooks for our courses.
What are the technology requirements for the program?

In today's world, capable managers and leaders are more resourceful and resilient than their peers. In several of Trevecca's programs, we want to build students' ability to be resourceful and resilient in addressing their technology needs. Read our full list of technology requirements →
Program Learning Outcomes
All CMO graduates will be able to:
Assess biblical, theological, and historical facets in constructing a holistic approach to ministry that is reflective of the mission to make Christ-like disciples in the nations.
Illustrate engagement with theological reflection and intellectual thought which is integrated into a Wesleyan-holiness ministerial approach.
Analyze ministerial context while applying significant skills in ministry related to discipleship, worship, leadership, service, administration, and pastoral care that are meaningful within that context.
Interpret biblical texts and Christian doctrine based on theological, cultural, and historical foundations for Christian ministry and practice.
Build habits that reflect Christ-likeness and practices that foster spiritual formation and Christian community, integrating various disciplines of the Christian for personal and ministerial growth.

Course Descriptions
Get details on all the courses you'll complete as you work toward this degree at Trevecca.*
---


Cohort Schedule
View a sample schedule of the courses you will be taking when you enroll.
The Person of the Minister and the Life of Ministry

CMN 3020

An exploration of the call to and the life of ministry in response to the movement of the gospel.

Credit Hours: 3
Engaging the Biblical Narrative

CMN 3000

An exploration of the biblical narrative, examining the contexts and faith of the Old and New Testaments and their implications for Christian ministry.

Credit Hours: 3
Theology of the Church

CMN 3850

An exploration of the various expressions of Church and theological issues tied to the Church's identity and mission.

Credit Hours: 3
Christian Ethics

CMN 4120

An exploration of the basis of Christian ethical decision-making through the study of the major thinkers, practices, sources, and methods of moral inquiry that inform Christian living, service, and discipleship.

Credit Hours: 3
A review of the various aspects of worship, musical and non-musical, in dialog with historic and contemporary expressions.

Credit Hours: 3
Congregational Discipleship

CMN 4300

An examination of the formative processes of the local church, and challenges faced in developing lay leadership for the sake of church and society.

Credit Hours: 3
Christian Ministry Capstone

CMN 4950

This course integrates program coursework in a final integrative project in which the students will apply these insights to the ministry setting.

Credit Hours: 3
Practicing Christian Spiritual Formation

CMN 4260

An examination of historical Christian practices for the sake of fostering ongoing spiritual growth in a contemporary setting.

Credit Hours: 3
Christian Theology

CMN 3030

A survey of the primary Christian doctrines and the manner in which they have developed in the church.

Credit Hours: 3
Contextualized Ministry in Changing Culture

CMN 4570

An engagement of congregational ministry in the context of dynamic cultural change providing capacity for envisioning change as opportunity for ministry.

Credit Hours: 3
An exploration of pastoral care skills within the context of the local congregation and the wider community.

Credit Hours: 3
Christian Leadership

CMN 4470

An analysis of leadership practices within the life of the Christian community.

Credit Hours: 3
*For a complete list of courses, tracks and other relevant information, view the program's course catalog.