online
graduate
Healthcare Administration (M.S.)
The Master of Science in healthcare administration focuses on leadership, service and innovation in the healthcare management field. This program equips students to become effective leaders as they learn to tackle healthcare challenges of cost, access and quality with innovative solutions, cutting-edge technology and industry best practices. With specialized tracks, students will hone their skills and be prepared for work in a variety of fields.
Trevecca's Master of Science in healthcare administration equips students with the skills to succeed in the competitive field of healthcare management. The program focuses on leadership, service, innovation, technology, information security and value-based management as they apply to the growing healthcare industry.
Program Benefits
Complete your degree online in 18 months with no residency requirements.
Continue to work and focus on your other priorities while earning your degree, taking one course at a time with all materials delivered to you.
Utilize a built-in support system and complete your degree alongside others who are working toward similar goals through Trevecca's cohort model.
Establish a sustained advantage in a competitive market with a focus on healthcare innovation.
Learn from faculty who possess the highest degrees in their fields and have relevant and valuable real-world experience.
What to Expect
As a student in Trevecca's Master of Science in healthcare administration program, you'll learn the theories and practices surrounding the three pillars of healthcare: cost, access and quality. Our leadership focus will help you to become a patient-centered, effective and self-aware leader in healthcare management.
Choosing one of our specialty tracks gives you another level of expertise within healthcare administration that can set you apart. The tracks include:
Data analytics
Entrepreneurship and innovation
Healthcare Administration
Human resources management
Interdisciplinary studies
Management and Leadership
Nonprofit leadership and management
Project management
These will enable you to move forward in your career with expertise that will set you apart in your field. You'll also improve your organizational, critical thinking, communication and decision-making skills. You'll work with cutting-edge technology; learn industry trends; and identify best practices for cost containment, patient access and overall healthcare experience. The research component of the program will allow you to connect with current industry leaders and complete a field experience or industry project. In just 18 months, you'll be fully equipped to serve in your desired field.
Why Choose Trevecca?
Founded in 1901 and a leader in online education for more than two decades, Trevecca helps students discover and pursue an individual calling by providing innovative instruction; cultivating a supportive, Christ-centered community; and establishing relationships that open doors.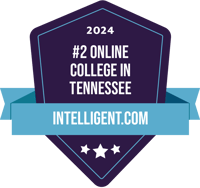 Recognized nationally and locally for academic quality, Trevecca has earned a reputation for providing the world with servant leaders, problem solvers and difference makers. Trevecca's holistic approach to education encompasses intellectual, social, emotional, physical and spiritual growth.
Course Descriptions
Get details on all the courses you'll complete as you work toward this degree at Trevecca.
Read More
Here's a look at the approximate tuition rates you could expect for this program at Trevecca, including the cost per credit hour and the total tuition expense for the full degree program. Please note that rates and fees are subject to change.
Here's a look at the approximate tuition rates you could expect for this program at Trevecca, including the cost per credit hour and the total tuition expense for the full degree program. Please note that rates and fees are subject to change.
Cost/Credit Hour

$500

Hours

36

Tuition Cost*

$18,000
*$150 Student Resource Fee assessed per course. $100 estimated book cost per course.
Our three-step enrollment process is fast, easy and free! Simply complete the application, submit your transcripts and we'll take care of the rest.
Getting started
Complete the

online application

(it's free!). No GRE or GMAT scores required
Need help applying? Read the

step-by-step instructions

here!
Fill out

FAFSA

to be considered for financial aid.
Request official transcripts from your undergraduate institution.
Admissions requirements
Have earned a bachelor's degree from an institution accredited by a CHEA-recognized regional accrediting agency or the Association for Biblical Higher Education. Students who do not meet these degree requirements may be conditionally accepted in accordance with the

Conditional Admission Policy
2.75 cumulative GPA for all prior coursework
Completion of a college-level math course with a grade of C or higher
Completion of a college-level English course with a grade of C or higher
Provide photocopy of government-issued identification (e.g., driver's license, state ID, military ID or passport). This requirement ensures that Trevecca complies with the U.S. Department of Education expectations for student verification. (This is only required for students enrolled in an online program.)
If you feel you may not meet these requirements, please fill out the form below to be connected with an enrollment counselor.
We understand life is busy and you may not have time to attend class on campus. You can earn your degree with us while focusing on one class at a time, any time—24/7. Through Trevecca Online, classes are taught digitally through our learning management system, Blackboard. Additionally, books and materials are delivered to your front door. And when we say the degree is entirely online, we mean it. Our program is structured so that you never have to step foot on campus—not even once!
Our online students also benefit from a cohort model, where students begin and complete their degree alongside a group of other online classmates working toward similar goals.
The following are required courses by the track they fall under:
Crisis and Emergency Management
Foundation of Emergency Management
Social Media Communications and Crisis Information Management
Crisis and Emergency Management Planning
Data Analytics
Introduction to Data Analytics
Processing Data for Decision-Making
Leading Data Analytics Projects
Entrepreneurship and Innovation
Entrepreneurship and Innovation
New Venture Creation
Small Business Management
Human Resources Management
Strategic Human Resource Management
Staffing and Development
Compensation and Benefits
Nonprofit Leadership and Management
Introduction to Nonprofit Leadership and Management
Raising Human and Financial Resources for Nonprofits
Fiscal Administration in Nonprofits
Project Management
Introduction to Project and Program Management
Project Schedule and Risk Management
Cost, Contract and Procurement Management
Career Opportunities: Master's in Healthcare Administration
With a Master of Science in healthcare administration, you'll be ready to advance your career and tap into higher earning potential. When combined with your work experience, your degree will position you to be competitive in the following roles:
Degree and 1-4 Years Work Experience:
Supervisory positions
Coordinator/specialist roles in specific areas)
Office manager
Business manager
Associate administrator
Administrative coordinator
Degree and 5+ Years Work Experience:
Regional vice president (corporate level)
Hospital administrator
Nursing home administrator (must possess state licensure)
Executive director
Associate C-Suite level
Senior VP level(s)
Chief executive officer
Chief operating officer
Health information director
Director of operations
Program manager

Course Descriptions
Get details on all the courses you'll complete as you work toward this degree at Trevecca.*
---


Cohort Schedule
View a sample schedule of the courses you will be taking when you enroll.
Organizational Behavior and Change in Healthcare

HCL 5110

This course evaluates dynamics of healthcare organizations and suggests ways healthcare leaders might influence organizational behavior among personnel to attain desirable outcomes and meet organizational goals.

Credit Hours: 3
Principles of Healthcare Leadership and Strategy

HCL 5140

This course assesses healthcare professionalism, strategic leadership and explores innovative strategies for leading people in healthcare organizations. Emphasis is on industry-specific competencies that promote leader's awareness of how to efficiently care for patients in the health delivery system while attaining optimal treatment outcomes and enhancing patient and employee experiences.

Credit Hours: 3
Value-Based Financial Management and Budgeting

HCL 6115

This is a comprehensive examination of specific financial management functions in healthcare organizations. Emphasis is on healthcare budgeting and drawing inferences from financial statements. Students will examine the advantages and disadvantages of various approaches to revenue projection, the collection, and review of departmental proposals, the development of capital budgeting policy, and other budgeting tasks. The course also addresses budget implementation, accounting, value-based healthcare delivery models, and financial reporting. Various methods for maintaining budgetary balance, preventing overspending, and dealing with contingencies are presented and discussed.

Credit Hours: 3
Health Reform and Alternative Healthcare Delivery Solutions

HCL 6130

Access, quality and cost of healthcare services remain a continuous challenge in the U.S. health delivery system. This course takes an in­ depth look at current and proposed governmental policy and its influence on the provision of healthcare within the United States. Additionally, this course examines the importance of professionalism, including ethical behaviors, in a complex and challenging health delivery system comprised of diverse perspectives, professional codes of ethics, institution-specific policies and government regulations.

Credit Hours: 3
Health Information Informatics and Security

HCL 6160

This course examines the role of disruptive innovation in healthcare through the use of technology. Emphasis is on how healthcare innovation is utilized to enhance patient care, increase patient access to health services, reduce costs of health expenditures, and improve operational efficiency for healthcare organizations and integrated health delivery systems.

Credit Hours: 3
Human Resource Management in Healthcare

HCL 6170

This course examines best practices for operating healthcare organizations. Emphasis is on recruitment and retention, satisfying staffing requirements, credentialing of providers, compensation models, diversity and inclusion, employee relations and employment law.

Credit Hours: 3
Health Economics

HCL 6180

This course examines the US health system and analyze behaviors of individual stakeholders within the healthcare ecosystem. Through application of economic theories and models, students will be able to assess various outcomes and decision-making made by health consumers, providers and suppliers of healthcare services, lobbyists, and governmental officials.

Credit Hours: 3
Healthcare Operations and Key Performance Indicators

HCL 6190

This course illustrates innovative strategies and tactics that healthcare leaders may utilize to evaluate and measure specific metrics to determine organizational performance's efficacy at both micro and macro levels. Emphasis is on essential components of achieving excellence in healthcare delivery, such as quality, cost, access, population health, and patient experience.

Credit Hours: 3
CAPSTONE COURSE (CHOOSE ONE)
Capstone Project: Health Challenges

HCL 6205

As part of the course design, students will complete an industry project in the format of a mini-thesis. The industry project will require students to identify and connect with a leader(s) in the healthcare field to gain practical knowledge and experience. The mini-thesis will synthesize theoretical, academic, and practical components that address current issues confronting healthcare organizations and impacting healthcare leaders. Specific emphasis will be placed on innovative strategies to address challenges in healthcare and the importance of leadership style, professionalism, and personal code of ethics.

Credit Hours: 3
Health Care Industry Field Experience

HCL 6240

The industry field experience offers students an opportunity to shadow healthcare professionals in various roles and settings. Students will obtain real-world experience and gain exposure to multiple disciplines within the landscape of healthcare administration. Successful completion of the field experience will assist students with identifying areas of interest specific to their chosen career pathway. The industry field experience is a required, 120- hours, 12-week course for students enrolled in the M.S. Healthcare Administration Program who possess less than three (3) years of healthcare experience.

Credit Hours: 3
*HCL 6230 Health Industry Field Experience Continuation is available if students need more time to complete the 12-week, 120 hours field experience.
Choose a Track
Data Analytics
Entrepreneurship and Innovation
Healthcare Administration
Human Resources Management
Interdisciplinary Studies
Management and Leadership
Nonprofit Leadership Management
Project Management


*For a complete list of courses, tracks and other relevant information, view the program's course catalog.